Breastfeeding room at the National Institute for Child and Family Development (NICFD), Mahidol University, Salaya Campus is open now for mothers and babies.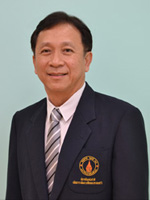 Assoc. Prof. Adisak Plitponkarnpim, M.D., Director of the National Institute for Child and Family Development said breast milk is very important for child development as shown in substantial research. It influences infant's brain development, learning skills, health, and bonding between the mother and baby. With this importance, all countries around the world signed an agreement and announce the policy that all countries have to promote exclusive breastfeeding for at least six months. The developed countries in Western Europe and Scandinavia support exclusive breastfeeding more than 90 percent. In contrast, the least developed country and developing country including Thailand encourages exclusive breastfeeding less than 20 percent. According to the in-depth studies found that everyone attaches great importance to academic knowledge but in practice, the organization does not support exclusive breastfeeding, and also the main obstacle is the lifestyle of working mothers such as working in the industrial, commercial, or agricultural sectors that may be the barrier to the success among mothers planning to exclusively breastfeed.
The changing of society, lifestyles, occupation, and unawareness of the importance of exclusive breastfeeding may cause the breastfeeding policy unsuccessful. Children who are growing up without breastfeeding will lack bonding between the mother and baby. This will have long-term effects on children.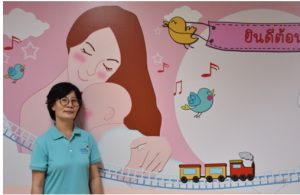 Khun Orapin Leardawasadatrakul, head of Breastfeeding Corner at Workplace Project explains that breast milk has lots of benefits for both mother and baby especially in promote bonding.  When a mother feeds her baby with breast milk, skin-to-skin contact will increase the level of oxytocin or love hormone in both mother and baby, the baby will feel the warmth and safety. This feeling will have long-term effects on the baby.
In addition, Khun Arpaporn Jamjai (Khru Mai), the associate teacher who has just become   a new mother, said there is a breastfeeding room at the institute providing for new mothers. This is very good for NICFD staff and others. We can feed our baby with breast milk and our baby will have good health and bonding.
The institute intends to create a breastfeeding room as an example for every organization no matter how large scale the organization is. Employers should encourage and support staffs for breastfeeding. The breastfeeding room at NICFD is currently open for all new mothers from other departments in Mahidol University. Hope that the breastfeeding program will be a good practice, increase awareness in breastfeeding, and also lay the emphasis on organization policy to ensure good health and well-being for all which is essential to the sustainable development.