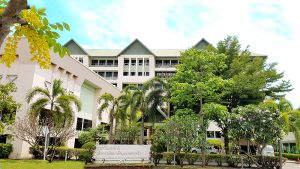 National Institute for Child and Family Development was officially established by the Royal Thai Government in 1997 as part of Thailand's national plan of action in response to the 1990 United Nation's World Declaration for Children.
NICFD is responsible for the development of knowledge and manpower, capacity building and technical support in order to improve the quality of life and development for children and families to the fullest potential. The institute provides graduate and postgraduate education, organizes Thai and international training courses, conferences and public education. Programmes for early childhood development and family based early intervention for developmental and behavioral problems are developed for research and training. NICFD coordinates with collaborating networks to provide support to related governmental and non-governmental organizations, communities for child and family programme implementation. NICFD offers knowledge-based input for policy making and social mobilization at all levels.
The Institute uses an interdisciplinary approach, in which knowledge in science and technology integrates with local wisdom, for optimal child and family development. The socio-cultural context is respected with consideration of advancement in science and technology in the era of globalization. This approach includes engaging in research, higher education and training, demonstration service, community outreach, collaborative networking and advocacy. Collaboration with and support from various organizations at the local, national and international levels makes it possible for the institute to function and to meet the daunting tasks.