Composed by Dr. Chadarat Hengsadeekul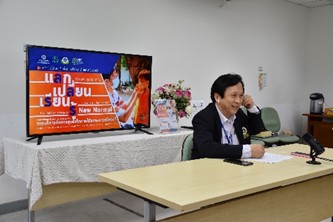 The National Institute of Child and Family Development (NICFD), Mahidol University, works extensively with government, families and communities to promote a good quality of life for all. One aspect which might be overlooked is safety. However, accidents lead to uncountable preventable injuries and deaths each year, disproportionately affecting those in low-income areas which may have lower building standards and fewer open spaces.
One of NICFD's contribution to safety is the Safety Hunter education space located at the institute. Safety Hunter is an interactive simulation-based learning center focused around child safety and first aid, such as safe travel, home safety, playground safety, drowning prevention, and domestic injury prevention. Groups of children aged 7-12, visiting from local schools, take part in games and activities to learn more about how to prevent and treat various injuries.
Although facilities like Safety Hunter are a valuable resource, safety promotion needs to be central to children's, and adults', lives. The World Health Organization (WHO) International Safe Communities project certifies and supports communities which are aiming to prevent injuries through safety promotion. In an International Safe Community, the community plays the leading role through creative methods of education, physical planning and environmental change, aiming to change behavior patterns and raise public awareness.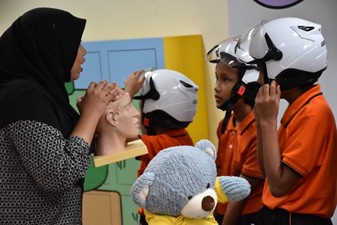 Tessaban Mueang Nan was first designated as an International Safe Community in 2013, receiving its re-designation in 2020. NCIFD has worked closely with, schools and other organizations in Tessaban Mueang Nan to support the safety promotion initiatives such as road safety, drowning prevention, and disaster preparedness and response.
To celebrate Tessaban Mueang Nan's re-designation, a 1-day webinar was organized by the community, co-hosted by NICFD, entitled From Safe Community to Safe Province. Although the webinar shared knowledge and success stories across a wide range of areas, one particular focus was protecting the safety of communities and children during the Covid-19 pandemic. Assoc. Prof. Adisak Plitponkarnpim, Director of NICFD contributed to a joint presentation on How to Keep Kids Happy and Safe During the Covid-19 Pandemic with case studies of the USA, Thailand, and Nan province, Thailand.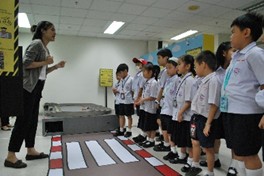 During the presentation, Assoc. Prof Adisak Plitponkarnpim, M.D.,  shared the details of a number of NICFD's projects related to child safety and Covid-19. Through the Early Childhood Education and Care project NICFD have developed free educational video lessons teaching new parents how to develop their children's brains through play in the first 3,000 days. Youth Volunteers for Fighting Against Covid-19 called for teenagers to volunteer to provide support and care for elderly members of their communities. New Normal of Early Childhood Daycare Center is a pilot project to provide guidance to childcare professionals on how to prevent Covid-19 spreading in childcare settings.
Dr. Chadarat Hengsadeekul, a Lecturer from NICFD gave a summary of the presentations in Thai and English, to ensure that both local and international audiences could benefit from the knowledge sharing.
CF : Sustainable Development Goals (SDGs)